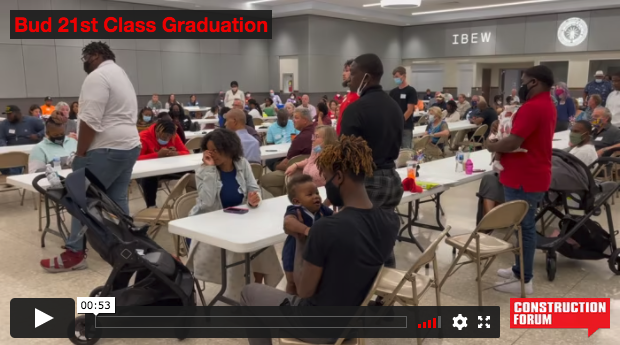 As seen in Construction Forum STL
There was a full house Thursday (June 3) For the graduation of the 21st cohort of the St. Louis Building Union Diversity (BUD) program. The celebration and a lunch for the graduates took place at IBEW Local 1 Hall.
Jake Hummel, president of the MO AFL-CIO, told those present that the objective of the BUD program is, "…making sure that the unionized construction industry in St. Louis, and now throughout the rest of  Missouri, look like the communities in which we work." BUD, which had been operated by the St. Louis Building Trades Council, recently merged with the newly created Missouri Works Initiative, an affiliated not-for-profit organization of the Missouri AFL-CIO.
Representatives of a number of potential employers were in the audience, including Alberici, ADB Companies, Bates Utility, EDM, Lionmark, Fred M. Luth & Sons, MODOT, McCarthy Building Companies, Millstone Weber, MSD, Paric Construction, Tarlton Corporation, United Ironworkers (Illinois), and Visu-Sewer.
Russ Signorino said that there were "over 110" people in attendance at Thursday's graduation.
Program graduates and their referring agencies were: Artimus Anderson (SLATE); Steven Bluett (Family and Workforce Centers of America); Yolanda  Burgess (University City Adult Education and Literacy Program); Timothy Carter (U. City AEL); De'Andre Hayes (self); Tayton Kirsch (MO DESE Vocational Rehab); Housea Martin (Concordance Academy); Shannon O'Neill (Building and Construction Trades Council staff); Matthew Prather, (AGC of MO); Chris Taylor (AGC MO); Chandler Wendt (MO Connections); and Jomark Willis (SLATE).
The BUD program began in 2014 as a recruitment tool to encourage more minorities and women to get into the building trades. The five-week program offers pre-apprentices the opportunity to visit local building trade unions to give them basic training and a feel for each of the trades.
BUD is now recruiting for its 22nd cohort, to begin at the end of this month. "We're looking to assemble a full class of 15 participants for the new five-week training," Russ Signorino, director of the St. Louis BUD program said.
Qualified BUD candidates must be 18 years of age or older, have a high school or equivalent diploma, and WorkKeys scores of 5 or higher in Math and Workplace Documents. Referring organizations should have applications, along with WorkKeys scores, submitted to Signorino by June 18. The program is scheduled to start June 28.
The application can be filled in online at https://budprogram.com/apply/. For more information contact Signorino at 314.303.6082, or email russ.signorino@gmail.com
https://moworksinitiative.org/wp-content/uploads/2021/06/Screen-Shot-2021-06-22-at-10.14.42-AM.png
345
620
Greta Bax
https://moworksinitiative.org/wp-content/uploads/2022/01/missouri-works-initiative-logo-new-1-300x222.png
Greta Bax
2021-06-03 15:13:16
2021-06-22 15:16:10
VIDEO: BUD Program Graduates 21st Class; Now Recruiting for 22nd Cohort, To Start June 28