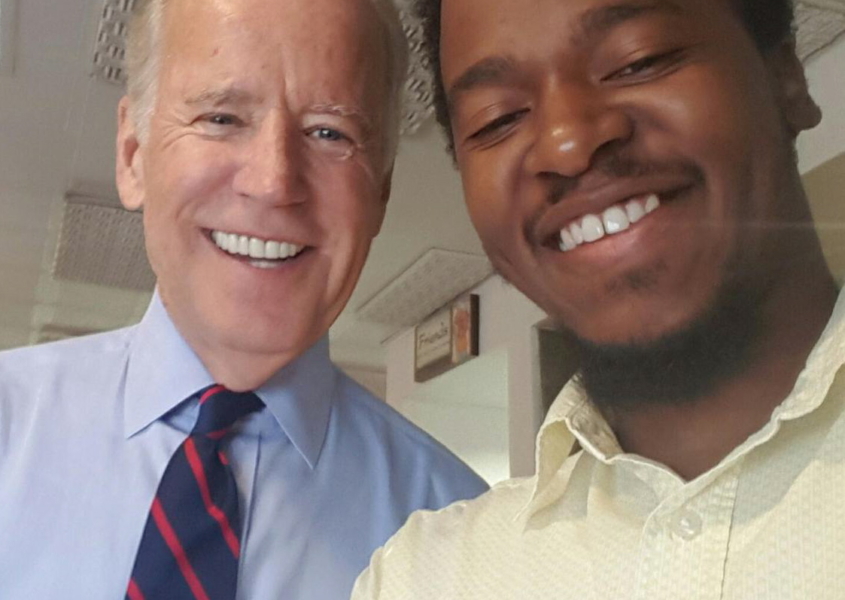 As seen in the St. Louis Labor Tribune
Eric Green, a recent graduate of the Building Union Diversity (BUD) program, has all the confirmation he needs that the program works. He's landed a job and recently met Vice President Joe Biden.
Green, 31, had sold insurance and worked in medical billing since 2009. When he wanted something different, his uncle, a journeyman plasterer told him about BUD and he signed up.
Green graduated from a seven-week BUD session Aug. 31 was meeting with business representatives Todd Hake and Kevin Haynes with the St. Louis-Kansas City Carpenters Regional Council at Goody Goody Diner on Natural Bridge Ave. on Sept. 9 when the Vice President and U.S. Senate candidate Jason Kander came in for lunch and stopped to talk at their table.
Biden was in town to talk about jobs, education, and training. He earlier had visited LaunchCode off Delmar to talk about growth in tech jobs.
Hake, the Carpenters business representative, said he told Vice President Biden that they were there meeting with Green for lunch and that he was a recent graduate of the BUD program, and Biden said "Yes, I'm very familiar with the BUD program."
The vice president then offered some words of encouragement to Green.
BUD organizers visited the White House to discuss the program and its successes during a conference on worker training programs in 2015.
A CONFIRMATION
For Green meeting with union business representatives about job opportunities, then having the opportunity to meet the Vice President – who was familiar with the BUD program – was proof enough that he was headed in the right direction.
"I felt like it was kind of a confirmation," Green said. "I felt like this was a great opportunity. I had heard that he as a politician that supported us. I felt like this was an opportunity to give it my best, because that's what he and the President (Barack Obama) have been supporting.
"Just to know that they knew about the BUD program was kind of big to me," Green said. "It was just telling me to take advantage of this."
RECORD OF SUCCESS
The BUD program was launched in 2014 to bring more minority and female workers into the union trades in a unique partnership of the St. Louis Building & Construction Trades Council, the Eastern Missouri Laborers District Council and St. Louis-Kansas City Regional Carpenters Council, with funding help from the St. Louis Agency on Training and Employment (SLATE) and the Missouri Division of Workforce Development.
Participants in the program also receive support from the United Way to help with issues such as car repairs or other problems that may be preventing them from getting or keeping a job.
BUD prepares participants to enter apprenticeships and, with commitment and dedication of their own, begin fulfilling and rewarding careers. Roughly 85 percent of participants have landed jobs since the program started.
Green was recently hired by Builders Bloc as an apprentice carpenter. The first day was hard, he said. "They worked me, but I came back the next day It's a great experience. I'm happy I signed up with BUD."
https://moworksinitiative.org/wp-content/uploads/2021/11/VP-Bud.jpeg
1350
1123
Braxton Payne
https://moworksinitiative.org/wp-content/uploads/2022/01/missouri-works-initiative-logo-new-1-300x222.png
Braxton Payne
2021-11-08 16:39:36
2021-11-08 16:39:59
BUD graduate meets then Vice President Joe Biden AND lands a job